News
 » 

Premier League news

 » 

Arsenal news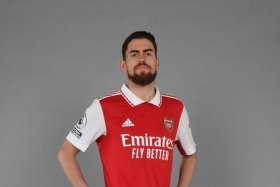 Arsenal midfielder Jorginho has said that he is very happy at the club despite the lack of a new contract.

The Italian joined the Gunners from Chelsea in January this year and he was involved in several games during the back end of last season.
He started the current campaign as a regular on the bench, but he has been in the starting line-up for the last three games in all competitions.
Jorginho has now clarified that he has had no conversations regarding his future, but he is 'really happy' at the north London outfit.
He said: "No, I haven't had any conversations to be honest. And the only thing I can say is that I feel really good here and I am really happy at Arsenal."
Thomas Partey was ruled out of the midweek game with a muscle issue and he could be doubtful to face Sheffield United at the weekend.
Even if he is deemed fit, it is likely that Jorginho will continue in the XI.